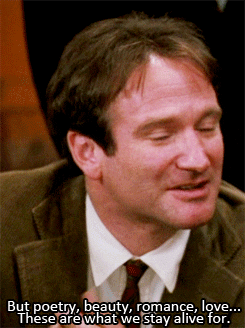 "We don't read and write poetry because it's cute. We read and write poetry because we are members of the human race. And the human race is filled with passion. And medicine, law, business, engineering; these are noble pursuits and necessary to sustain life. But poetry, beauty, romance, love; these are what we stay alive for."
– Dead Poets Society
I love reading poetry. The right poem can brighten a happy day and soothe a difficult one. It can give you a different perspective. It can motivate and inspire you. And it can sometimes take your breath away.
Today's post contains three positive poems that I hope you enjoy. Thank you very much for visiting my blog, and I hope everyone is safe and well 💕.
Writing update: Although it's been a little challenging to make time for writing recently, I'm happy to say that
Engraved in Magic
remains on track for a late July release ☺.
May the stars carry your sadness away,
May the flowers fill your heart with beauty,
May hope forever wipe away your tears,
And, above all, may silence make you strong.
― Chief Dan George
Life has loveliness to sell,
All beautiful and splendid things,
Blue waves whitened on a cliff,
Soaring fire that sways and sings,
And children's faces looking up
Holding wonder like a cup.
Life has loveliness to sell,
Music like a curve of gold,
Scent of pine trees in the rain,
Eyes that love you, arms that hold,
And for your spirit's still delight,
Holy thoughts that star the night.
Spend all you have for loveliness,
Buy it and never count the cost;
For one white singing hour of peace
Count many a year of strife well lost,
And for a breath of ecstasy
Give all you have been, or could be.
― Sara Teasdale
"Hope" is the thing with feathers -
That perches in the soul -
And sings the tune without the words -
And never stops - at all -
And sweetest - in the Gale - is heard -
And sore must be the storm -
That could abash the little Bird
That kept so many warm -
I've heard it in the chillest land -
And on the strangest Sea -
Yet - never - in Extremity,
It asked a crumb - of me.
― Emily Dickinson